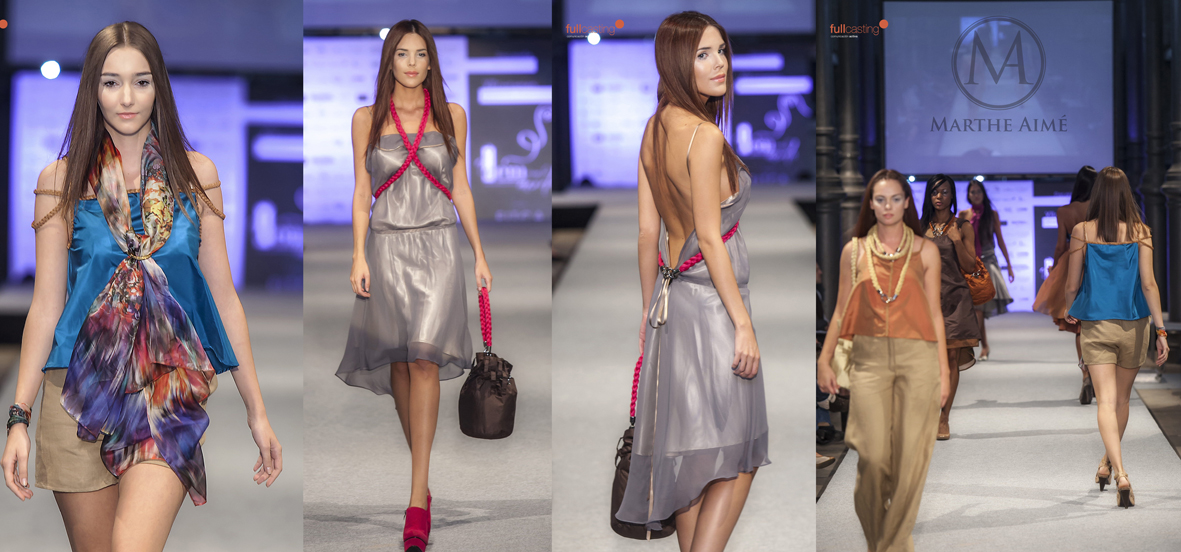 28 septembre 2012 – Défilé de clôture du projet CEM à Saragosse (Espagne)
Ayant participé au projet CEM depuis 2009 en tant que designer de la marque Marthe Aimé, ce vendredi 28 septembre a marqué une étape avec des conférences et les défilés des créateurs du Centre d'Excellence de la Mode. Le défilé Marthe Aimé a eu lieu dans le cadre de cette Semaine de la Mode de Saragosse.
Le projet CEM s'inscrit dans le cadre du programme Européen de coopération territoriale Espagne – France – Andorre 2007 – 2013. Son objectif est la restructuration et la modernisation du secteur du textile et de l'habillement en resserrant les échanges transfrontaliers entre l'Espagne et la France.  Les partenaires : le GIH Groupement des Industries de l'Habillement, la FITCA Fédération des Industries Textiles et de Confection d'Aragon, l'ICAM de Toulouse, la CCI Pau Béarn, et le GIC Groupement des Industries de la Confection de Barcelone.
Having participated in CEM project since 2009 as the designer of the brand Marthe Aime, this Friday, September 28th marked a milestone with lectures and creators parades of the Fashion Center of Excellence. Marthe Aime parade took place in the context of this Fashion Week in Zaragoza.
EMC project is part of the European Territorial Cooperation Programme with  Spain , France & Andorra from 2007 to 2013. Its objective is the restructuring and modernization of the textile and clothing sector by tightening  trade between Spain and France. The partners: GIH Group of Industries Clothing, FITCA the Federation of Textile Industries and Manufacturing of Aragon, ICAM Toulouse CCIPB, and the IAG Group of Industries Manufacture of Barcelona.